ASIA PORT Attracts the Best People Who Continuously Evolve, Develop and Provide the Best Services to Satisfy Your Needs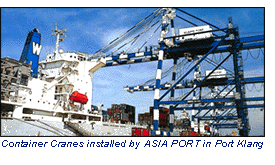 Our offices are located in key port industry locations - our Head Office is in Port Klang, serving the premier ports of Port Klang and Westport in Malaysia and our Branch Office is in Penang, the busy port serving the northern growth area of Malaysia. The scope of ASIA PORT skills is available from each office, enabling us to effectively serve clients anywhere within our operational areas.

We have a core of highly qualified, experienced and dedicated personnel made up of multi-disciplined engineers, technicians and sales representatives offering a blend of extensive practical knowledge with strong technical support, giving added value and simple solutions for complex problems.

We are agents in Malaysia for internationally renowned port equipment suppliers.